Why did you choose Ambition Vietnam?
At first, I was just looking for a job in 2D animation. When I heard about the kind of atmosphere at Ambition Vietnam and what the job entailed, I became interested and decided this was the place for me.
What languages do you communicate with at work?
Generally, we all speak Vietnamese in the office, but we receive a lot of communication in English and Japanese.
I'm currently studying Japanese to open up more opportunities for myself within the company.
What do you think about your current work environment?
I think it's wonderful. The company is driven and takes good care of its employees. A positive work environment is essential to creative professionals, and I think Ambition Vietnam provides an environment that fosters creativity.
Was there anything that surprised you after you started working at Ambition Vietnam?
When I first started, I had no experience and was worried I wouldn't know what to do or if I'd get exhausted quickly. However, whenever I did have questions or problems, the other staff members were always quick to provide help and support.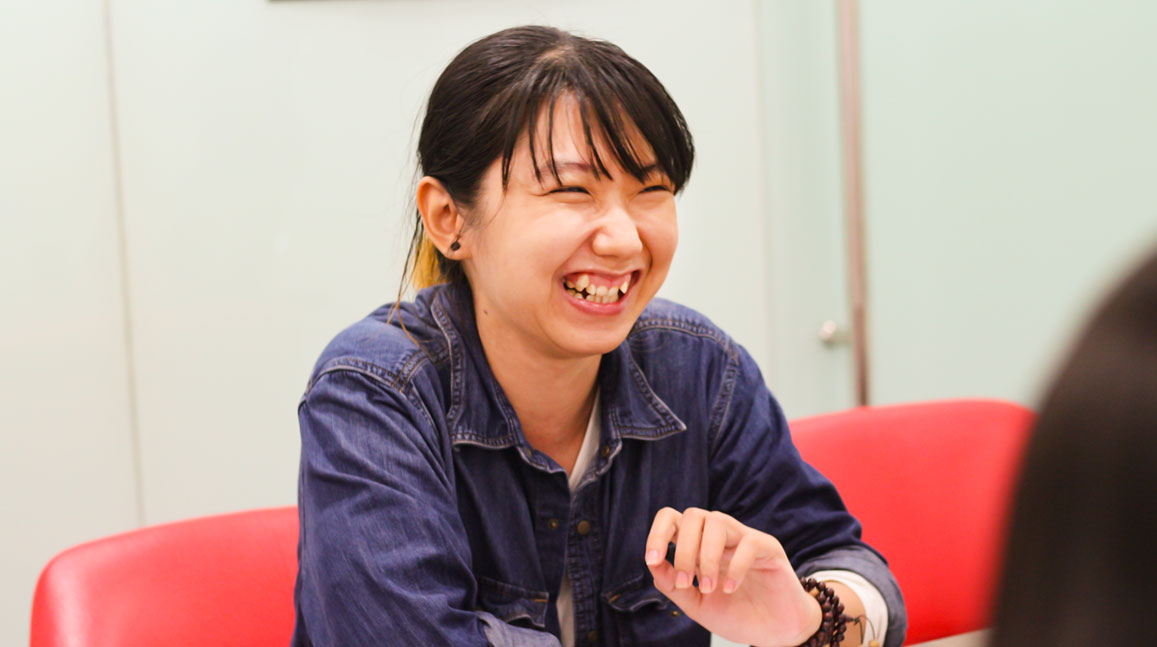 Can you tell us what you like about working here?
The company makes a great effort to provide consultation to its employees and always tries to meet their requests. It makes the workplace an easy one to work in and staff members are always encouraged to do things that generate inspiration. For example, there are gaming devices set up in the office, and a snack counter. Also, creatives can do things that make them feel at home, such as listen to music. Since working in the gaming industry is a state-of-the-art profession, there's great potential for individuals to learn and grow. Especially because Japan has a high standard for animation design, staff members are always encouraged to learn and improve their skills. Also, the company provides fair and reasonable evaluations and compensation for its employees.
What skills are required to work in this industry?
・Flexibility and willingness to get involved in different types of work and work environments.
・The ability to prioritize tasks.
・Be able to concentrate on artistic assignments with precision.
・Willingness to be a great team player and respect others in the workplace.
・The ability to provide open and clear communication.
How long do you expect to remain with Ambition Vietnam?
I find a lot of value in working for this company, so I expect to stay for a long time. The reason why is because I would like to build my professional skills in a Japanese work environment and I can do that here.
Finally, any advice or message to students who would like to enter the company?
Before entering the workforce, you should build up a repertoire of skills essential to any workplace. Finding a job quickly is important but don't forget to improve your abilities while you're job searching. When you're looking for a job, it's easy to fall into the trap of focusing too much on the job hunt and interview process. However, you should also be preparing your mindset on how you approach work before entering the company. Lastly, when trying to promote yourself, don't focus only on the things you've accomplished. You should let your personality shine through by expressing your way of thinking and describing characteristics unique to you.